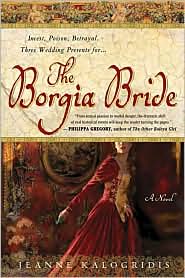 Against the backdrop of 15th-century Italian internecine feuds, debauchery and Vatican corruption, Kalogridis's latest historical novel (after
The Burning Times
) chronicles with compelling sweep the story of the ravishing and iron-willed Sancha de Aragon, princess of Naples. Illegitimate daughter to the coldhearted duke of Calabria (briefly king of Naples), she is used to establish ties to the feared and influential House of Borgia when her father betroths her to the younger scion, Jofre. Much to the dismay of her beloved younger brother Alfonso, Sancha is sent from Naples to rule with Prince Jofre in remote Squillace. War with the French will later briefly return her to Naples, but rumors of her beauty reach her lecherous father-in-law, Pope Alexander VI, who recalls her and Jofre to opulent Rome. There, she avoids the pope's advances—and her jealous sister-in-law Lucrezia's animosity—but falls into a steamy affair with her brother-in-law, the dashing Cesare, cardinal of Valencia. Cesare becomes furious when she refuses to leave Jofre, and he sets out on a warpath that includes her brother Alfonso, who has also married into the Borgia clan—to Lucrezia. Kalogridis spins a dramatic tale from a heady mix of royal power plays and passion.
In my opinion

The Borgia Bride

is a really great and also believable book. Fantasting written, exciting and shocking.
For some people the plot maybe sounds a bit cheesy, but the novel isn't, promised.